Fake Halloween 'Devil Teeth' Gets Stuck in Woman's Mouth
Home » Blog » AlabamaHauntedHouses.com News and Updates, Halloween Headlines
October 29, 2018 By Wendy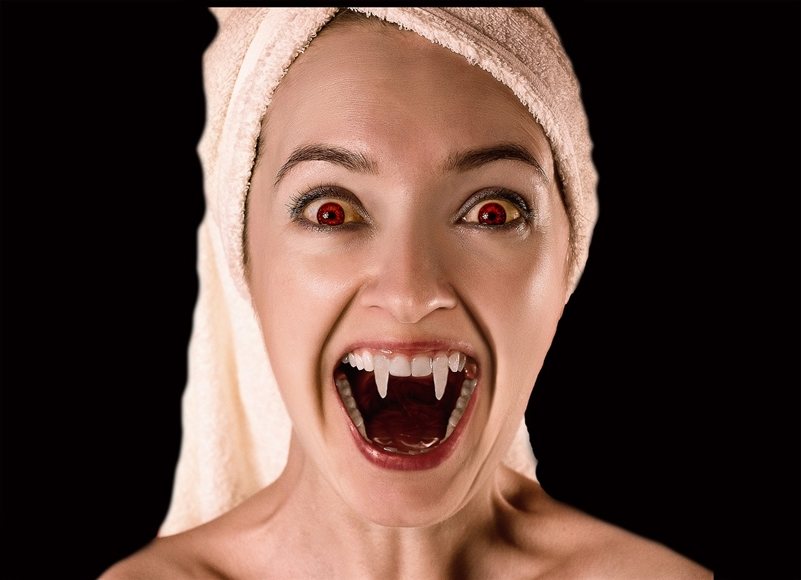 Fake teeth for zombie costume gets stuck for one woman in Alabama
Photo by:
Pixabay
Many celebrating Halloween go through changes to complete a Halloween costume. For one woman in Alabama, she applied 'Devil Teeth' (fake fangs) to her teeth to complete her new zombie costume, but it got her into a medical emergency when she couldn't get the fake fangs off her teeth.
According to reporting from a local TV station, Anna Tew purchased the fake fangs for about $3, which came with glue to adhere to her teeth. It turned out the adhesive wasn't temporary. When she tried to remove it, "they wouldn't budge" and she spent several hours trying. Facing excruciating pain Tew said, "I took a pair of wire clippers and cut the tips off of those."
Finally, she found an emergency dentist, Dr. John Murphy at Alabama Family Dental, who could help. She explained during the local TV interview, "He talked about drilling. They had a saw, talked about taking [them] off in sections, and they couldn't numb it because they were scared they would actually pull my teeth out.""So he went in and picked and pulled and I squealed like a baby and they got them out."
As for whether Tew would consider a Halloween costume change of this sort again, she said she'll never use them again.
Let us know if you've had a Halloween costume scare of this type before!