No Joke: Fans Outraged That Instant-Classic Horror Flick "Get Out" is Classified as "Comedy Film" by the Golden Globes
Home » Blog » Halloween Headlines
November 17, 2017 By Cait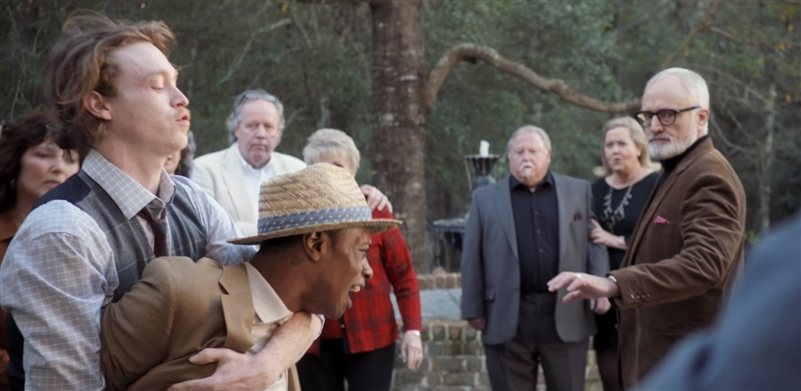 No Joke: Get Out, The Smash Horror Flick, is Up for a "Comedy/Musical" Golden Globe Award.
Photo by:
Universal Pictures, via YoUTube.
By now, even if you haven't yet seen the hit horror movie written & directed by Jordan Peele, you've undoubtedly heard about the smash hit horror flick "Get Out", which was released in February 2017, and primarily filmed right here in Alabama. As everyone knows, this is a horror movie, so it came as quite the shock when "Get Out" was announced to be in the running for a Golden Globe Award - in the Comedy Category. The movie, which is a psychological thriller with a socially on point narrative, is definitely not what many folks would consider a Comedy movie, by any means.
The film's creator, Jordan Peele, sent out a tweet saying that " 'Get Out' is a documentary." on Wednesday (November 15th), after its Comedy nomination was announced, and according to reports by Indie Wire and A.V. Club, he clarified his statement the next day, saying that Universal Studios had submitted the film to the Comedy Category without consulting him, and that he would have absolutely opposed the move, since the film isn't funny, and is focused on the very serious topic of racism. "What the movie is about is not funny," Peele asserted matter-of-factly.
'Get Out' is a documentary.

— Jordan Peele (@JordanPeele) November 15, 2017
So why, exactly, did "Get Out" end up in the running for a Comedy/Musical Golden Globe? Well, there's lots of reasons. Since the Horror Genre doesn't have its own Golden Globe category, they can sometimes get lumped in with the "Comedy/Musical" Category, which, while inappropriate in many cases, is seen as a bit of a "catch all" category, and one that's less competitive than say, the overall "Best Drama" Category, which is why you rarely ever see horror movies nominated in the category.
Although Jordan Peele is known for his comedy, he had made it clear that he thinks the categorization of his horror thriller as a Comedy Film by the HFPA (the folks that run the Golden Globes), is plain wrong. In a statement reported by Indie Wire yesterday, Peele said "The label of comedy is often a trivial thing. The real question is, what are you laughing at? Are you laughing at the horror, the suffering? Are you disregarding what's real about this project? That's why I said, yeah - it's a documentary."
Have You Seen Get Out? What Do You Think of The Movie's Golden Globe "Comedy/Musical" Nod?
Let Us Know in the Comments Below!