Rube Burrow, The Outlaw Responsible for Express Train Gang Robberies in the South Retold through Haints & Haunts 2015
Home » Blog » Alabama's Best Weekend Events, Alabama Haunts: An In Depth Look, Alabama Haunt News, Halloween Headlines
October 16, 2015 By Wendy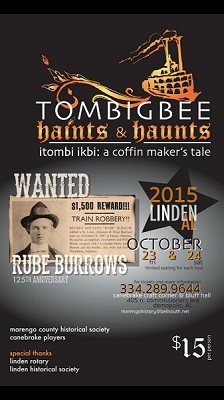 Haints & Haunts 2015
Photo by:
The Canebrake Players
This year marks the 125th anniversary of the death of Rube Burrow, a notorious outlaw who gang robbed express trains from 1886 to 1890. Hundreds of lawmen in the southern half of the country pursued him as he went on to rob express trains in Alabama, Arkansas, Louisiana, the Indian Territory and Texas. The crimes Burrow was committing finally came to an end when he was captured in Myrtlewood and then put in jail in Linden, Ala. where he then escaped but was shot to death in an exchange of gunfire on the streets.
Discover the dark side of Screamersville (a.k.a. Linden) for 'Haints & Haunts 2015: Rube Burrow 125' this Halloween season. The Marengo County Historical Society and Canebrake Players come together with the Linden Rotary Club and Linden Historical Society to present the notorious tale of Rube Burrow with a ghost tour walk through the streets of Linden. Artifacts from the late 1890 shootout, including a 32 Smith & Wesson revolver and Colt 45 pistol will also be on display.
Tours are running Friday, October 23 and Saturday, October 24, three times per night at 7 p.m., 8 p.m., and 9 p.m. Purchase a ticket for $15 at Bluff Hall in Demopolis, Ala. (Bluff Hall is open Tuesday–Saturday, 10 a.m.-5 p.m., and Sunday, 2 p.m.-5 p.m.) Tickets are also available at Ziggy Zelda's in downtown Linden. Seating for each tour is limited, so please call 334-289-9644 or email marengohistory@bellsouth.net for tickets and more information.