Halloween By the Numbers: Fun Facts & Stats About Halloween, According to the US Census
Home » Blog » Halloween's Hottest Trends, Little Ghost & Ghouls Corner , Alabama Haunt News, Halloween Headlines
October 31, 2017 By Cait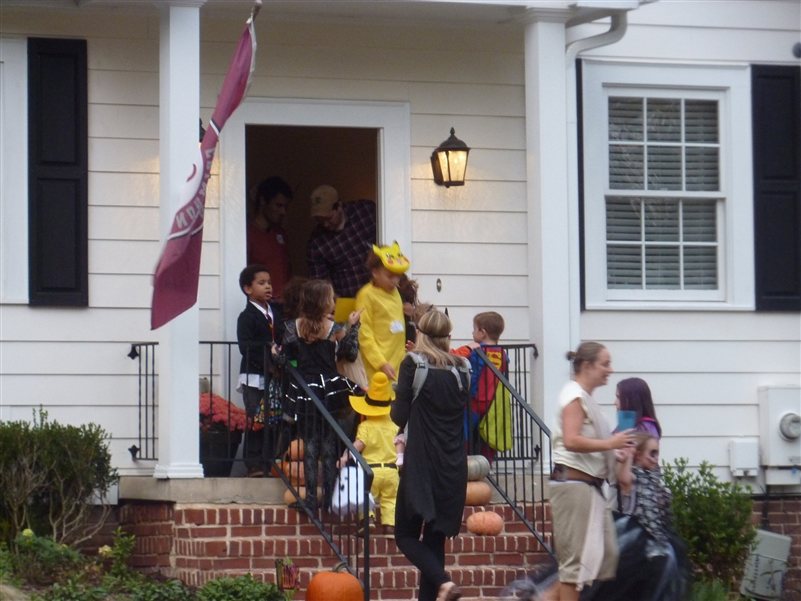 The US Census Bureau has Put Together Some Fun Stats for Halloween 2017!
Photo by:
muffinn, via Flickr. (CC BY 2.0)
When you think of Halloween fun, your mind doesn't typically think of the US Census Bureau automatically, but they've put together some fun and fascinating statistics about Halloween 2017 that we sure find interesting! They've put together some statistics on
Stats on Places to Trick or Treat Across America
41.1 Million Trick or Treaters - That's how many trick or treaters between the ages of 5 - 14 were estimated to have participated in trick or treating in 2015. That doesn't count the littlest ghosts & ghouls under the age of 5 (many of whom trick or treat with their parents), or teens & adults above the age of 14, who also hit the street to trick or treat in droves each Halloween.


118.1 Million Potential Trick or Treat Stops - According to the US Census Bureau, there's over 118.1 million housing units occupied across the US (as of the 1st quarter of 2017) - all potential stops for trick or treaters! That's sure a lot of candy, isn't it?!


66.6 Million Trick or Treat Stops with Steps - Another fun fact - the Bureau reports that of those 118.1 million houses, 66.6 million had steps which trick or treaters had to walk up. Be sure to be careful if you've got a long or bulky costume while you're heading up the steps for tricks and treats!


Over Three Quarters of Americans Trust Their Neighbors - According to the 2013 American Housing Survey, 78.7% of Americans trust their neighbors! It's no wonder there's so much fun happening in neighborhoods across the US on Halloween!


Most Folks Feel Their Neighborhood is Safe - According to the 2015 American Housing Survey, only 17.3% of Americans felt that their neighborhood had a lot of petty crime, meaning that over 80% of Americans feel their neighborhood is safe, and free of petty-crime, something that regularly comes to mind on Halloween as pranksters are out.


Stats on Who Makes Our Halloween Treats for Us
Almost 40,000 Americans Are Making Chocolate For Us - According to the 2015 Annual Survey of Manufacturers, 39,815 people are employed by US Manufacturing businesses that produce chocolate & cocoa products, and they sold $17.2 billion dollars worth of product in 2015! Thanks, candy makers!


Almost 19,000 Americans Are Making Us Non-Chocolate Candies - In the same survey that discovered almost 40,000 people were employed making us chocolate & cocoa products in the US, it was discovered that 18,427 people are employed by candy manufacturers making non-chocolate confections. We of course would like to thank the makers of these sweet treats too!


There Are Over Dedicated 3,000 Candy & Nut Stores in the US - Skip the candy aisle, and head right over to the candy store! According to the 2016 County Business Patterns Report, there are 3,280 Candy & Nut stores in the US that are dedicated to exclusively selling sweet treats!


Candy Stores Across the US Employ Over 23,000 People - With over 3,000 candy stores in the US, it's no wonder that a small army of employees is needed to dole out the goods. In the same study that found there are 3,280 candy stores in the US, it was discovered that those candy shops employ 23,243 people!
Other Fun Halloween Facts
Over $12 Million is Spent on Pumpkins - According to the International Trade Statistics Data for 2016, the value of United States Pumpkin imports is $12.4 Million Dollars - that's sure a lot of jack-o-lanterns!


There Are Over 4,400 Movie Theaters Across the US Where You Can Enjoy a Horror Movie This Halloween - According to the 2016 County Business Patterns Study, there are 4,407 movie theaters across the US, and if you're in the know about what's popular in theaters, you'll know that almost every theater will be screening horror movies this Halloween. Top states for movie theaters are California, Texas, New York, and Florida!


Of The 4,407 Movie Theaters, Over 200 Are Drive-Ins! - In the same study that discovered that there are over 4,400 movie theaters across the US, it was determined that 213 of them are drive-in theaters, and we all know that scary movies are even spookier at the drive-in!


The US Census Bureau Has a Hair-Raising Number of Fascinating Halloween-Related Statistics - I mean, how cool is that? They've got a stat for almost everything - check out their 2017 Halloween Stats Guide for even more fun Halloween stats and facts - you can download a PDF with the full scoop here!
Have a Fun Halloween Fact You'd Like to Share? Let Us Know in the Comments Below!