Making Costumes this Halloween Season
Home » Blog » Alabama's Local Halloween Fun Guide, AlabamaHauntedHouses.com News and Updates, Halloween Headlines
September 3, 2015 By Wendy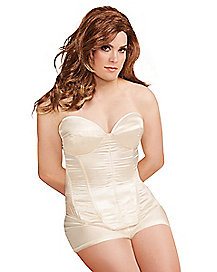 Photo by:
Spirit Halloween
One of the great things about the Halloween season is the various costumes you'll come across. Some are cute. Some are extraordinarily creative. Some are outright freaky. And then there are the costumes that make headlines because they may come off offensive. This Halloween season you'll see costumes in all categories, especially the latter.
With one of the more popular Halloween costume stores already opening its shop for the season – Spirit Halloween is already creating talk with its exclusive Caitlyn corset set and wig costume. The costume closely resembles that of Caitlyn Jenner appearing on the cover of Vanity Fair.
Other costumes coming out and creating talk include the Decathlon Track Star costume closely resembling that of Bruce Jenner and what he represented in his younger years.
The Lion Killer Dentist costume, which is based off of the recent news about the beloved lion named Cecil who was killed by Dr. Walter Palmer is also a new idea out this season.
Other costumes we can expect to hit the streets this Halloween and create chatter include that representing individuals who've been in the news like Jared Fogle, Bill Cosby, and Josh Duggar, according to an article from Cosmopolitan on offensive Halloween costumes.
Tell us how you'll be dressing up this Halloween!